Fresh from the edge of the world....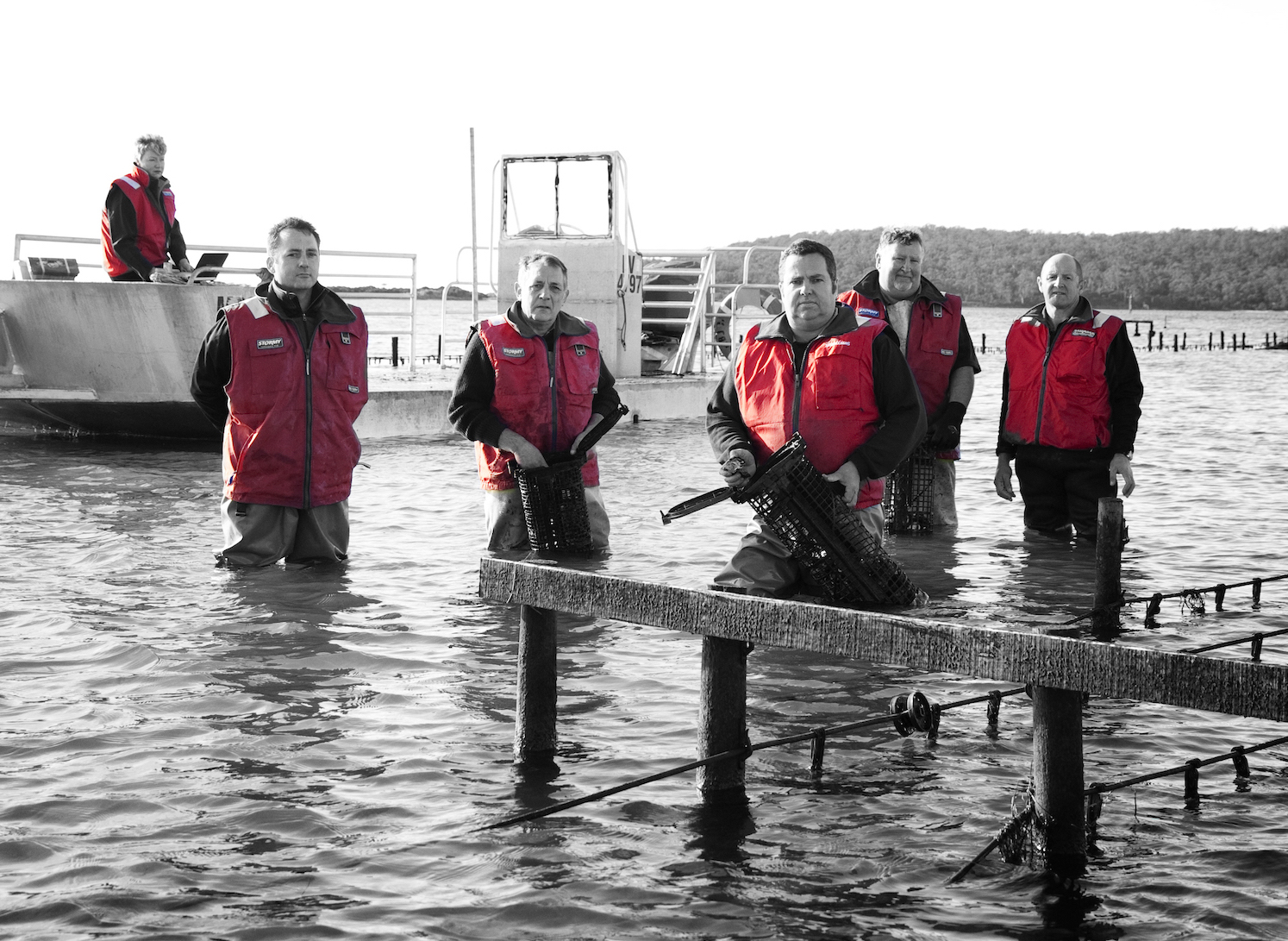 Our Oyster Farms in Tasmania
Each growing region, just like wine, produces an oyster with a unique taste, colour, appearance and flavour that is particular to that region.
Pitt Water and Island Inlet Oysters
#1 The Pitt Water catchment was the first area to grow Pacific Oysters in Australia in 1946. Oysters from this farm in Tasmania have a saltier flavour and are well known for the shape and consistency through the batches. Oysters from this region have their annual spawning earlier than other oyster farms in Tasmania and normally peak in condition between August and January, oyster season. Good numbers of non spawning triploid oysters have also been sown down, enabling production year round.
Shell Characteristics
Oysters produced from this farm in Tasmania are generally hard and smooth in appearance. This oyster farm, while not exposed directly to the ocean swell, is often exposed to high winds. The oysters are deep in cup, with a thick hard shell and a pronounced greenish tinge in the shell colour. The meat colour inside varies from a white to a greyish green, depending on what food the oysters have consumed. Oysters from this region take about 20-24 months to reach market size.
Tasting Notes:
An oyster with a clean, sea smell, with a light saltiness to the taste. The salty taste may well linger. Full bodied flavour and rich, with a definate sweetness, a soft creamy texture which breaks easily.
Blackman Bay
#2 Blackman Bay Oysters - Dunalley Surrounded by some of Tasmanian's pristine white beaches and situated on the East Coast with direct access to the crystal clear, most pure oceanic waters of the Pacific Ocean.
Shell Characteristics
Opaque thick white shell is consistent with this area. The growth rate of oysters from this farm in Tasmania is 18 - 24 months to reach market size.
Tasting Notes:
The oysters from this bay have a white flesh, clean shells and a subtle combination flavour of sweetness and saltiness which leaves a clean, crisp taste on the palette.
Duck Bay Oysters - Smithton
#3 Smithton has some of the highest rainfall in Southern Australia, providing a constant supply of nutrient rich water all year round. Located on Tasmania's stormy North West Coast, Duck Bay has a reputation for providing high quality, nutritious oysters in November to April when supply is normally scarce throughout Australia. This particular oyster farm in Tasmania produces oysters with a large sweet abductor muscle with white flesh.
Pambula Lake Oysters - South Coast NSW
#4 We can source Sydney Rock Oysters from this region (only available for export market). Direct harvest from this bay ensures the best quality and organic environment. These oysters are packed in Melbourne at an Export approved packing facility before being transported to our Freight Forwarder at Melbourne airport.
Size
Bistro
Buffet
Standard
Large
Asia Pacific (mm)
50-60
60-70
70-85
85-100
If you were looking for quality oysters or just looking to cook oysters at home - We have collated some delicious oyster recipes for you so you can enjoy fresh oysters delivered right from our oyster farm on your dinner table via our online oyster shop. See our Blog and news page for recipes.
Oyster spat (baby oysters) are supplied from the Tasmanian hatchery of Shellfish Culture to farms throughout the Island. It takes two years to grow a market size oyster.